Joshua Tree has become one of California's trendiest areas. Instagram fueled the desert community's popularity, now things are booming. Recent visits by Solange, Alicia Keys, Swizz Beatz and Saweetie have more millennials in nearby Los Angeles considering getaways in high desert over the area's more popular neighbor: Palm Springs.
Keys and Beatz have been documenting their time in the desert on their social media accounts.
View this post on Instagram
Developers, artists and city people looking for an escape are turning once desolate homesteader cabins into unique vacation rentals like the exclusive property Keys and Beatz are renting. There's liberal or conservative politics if you're searching for that, hippies, hipsters, a bustling art community, live music scene and solid restaurants. There's also, maybe surprisingly, more and more African-Americans creating businesses in the area.
Here are our recommendations of places to visit in the area:
PLACES TO EAT IN JOSHUA TREE
When you're ready to eat, two spots standout in the Joshua Tree area: La Copine and Kitchen in the Desert. Both are proud BLM supporters, and must-visit pit-stops for folks that appreciate a decent meal. Kitchen in the Desert is black-owned and accessible off Highway 62.
Fueled by a passion for rock climbing, Brooklyn's Everton Gordon relocated to the area before the COVID hipster boom. His skill in the kitchen and work ethic kept doors open through the pandemic and now business is booming. On any given day you're likely to find celebrities and influencers alike salivating over the Trinidadian doubles, dan dan noodles, and fried chicken sandwich. KITD is also one of the few dining spots offering a bar service with generously poured, hand-crafted cocktails.
Arrive before sunset, and enjoy the vibe.
THINGS TO DO IN JOSHUA TREE
Noah Purifoy is a celebrated found objects artist. His life's work is on display in Joshua Tree on the 10-acre property he lived and worked on during later years of his life. The Noah Purifoy Outdoor Desert Art Museum is free to the public and open from sunrise to sunset, 365-days a year.
PLACES TO STAY IN JOSHUA TREE
Wonder Valley Yurts is owned and operated by the author, a longtime/part-time desert dweller. Billed as affordable, quiet glamping, Wonder Valley Yurts is open fall through spring.
Black Star Oasis is a coming soon property. This majestic 15-acre spot is scheduled to open in summer 2021. Two African-American families are uniting on renovating this spot and turning it into a destination in-and-of itself. With private hiking, a pool, fire pits, panoramic views ranging from snow capped mountains of Big Bear to golden-red hills of Joshua Tree, Black Star Oasis will be a hot commodity.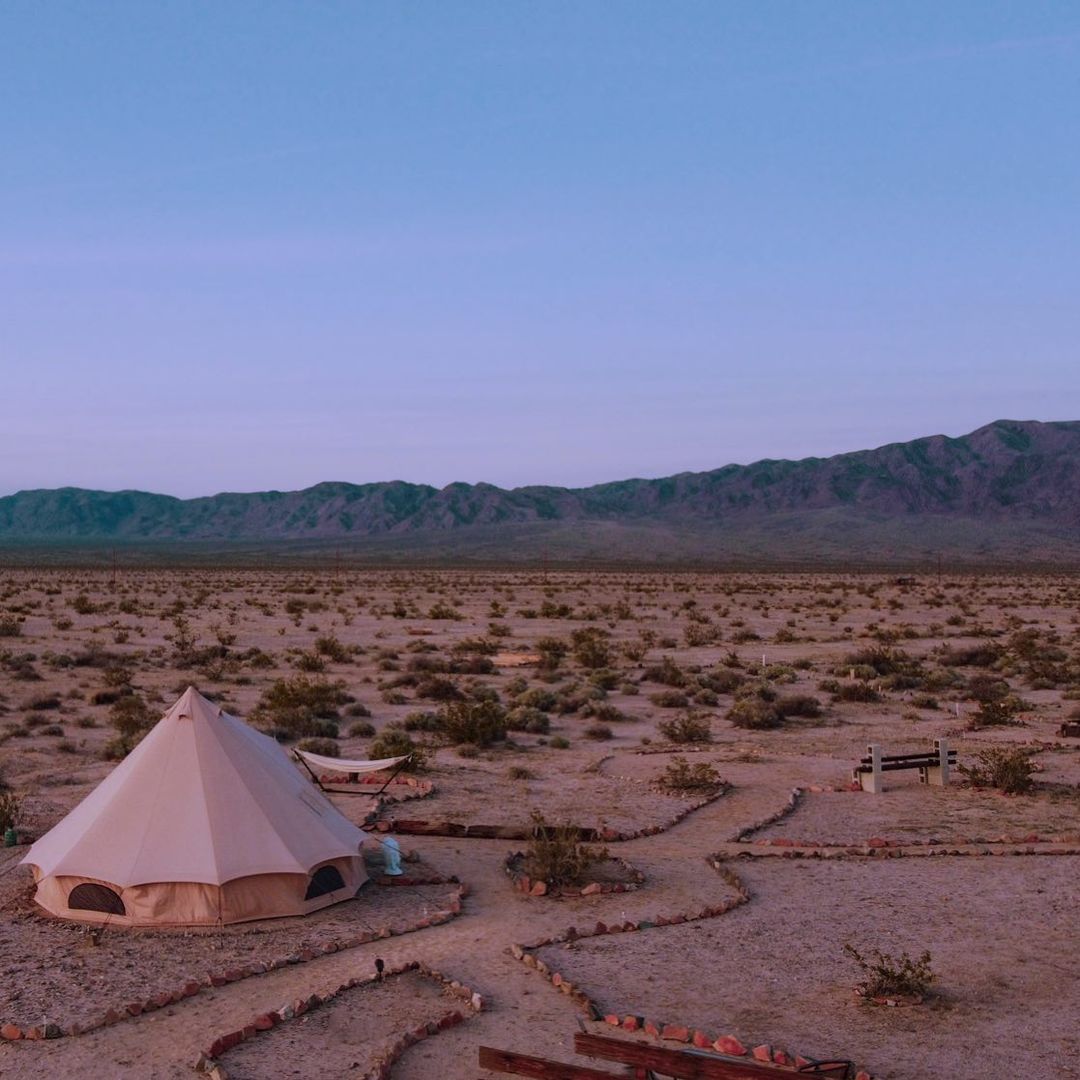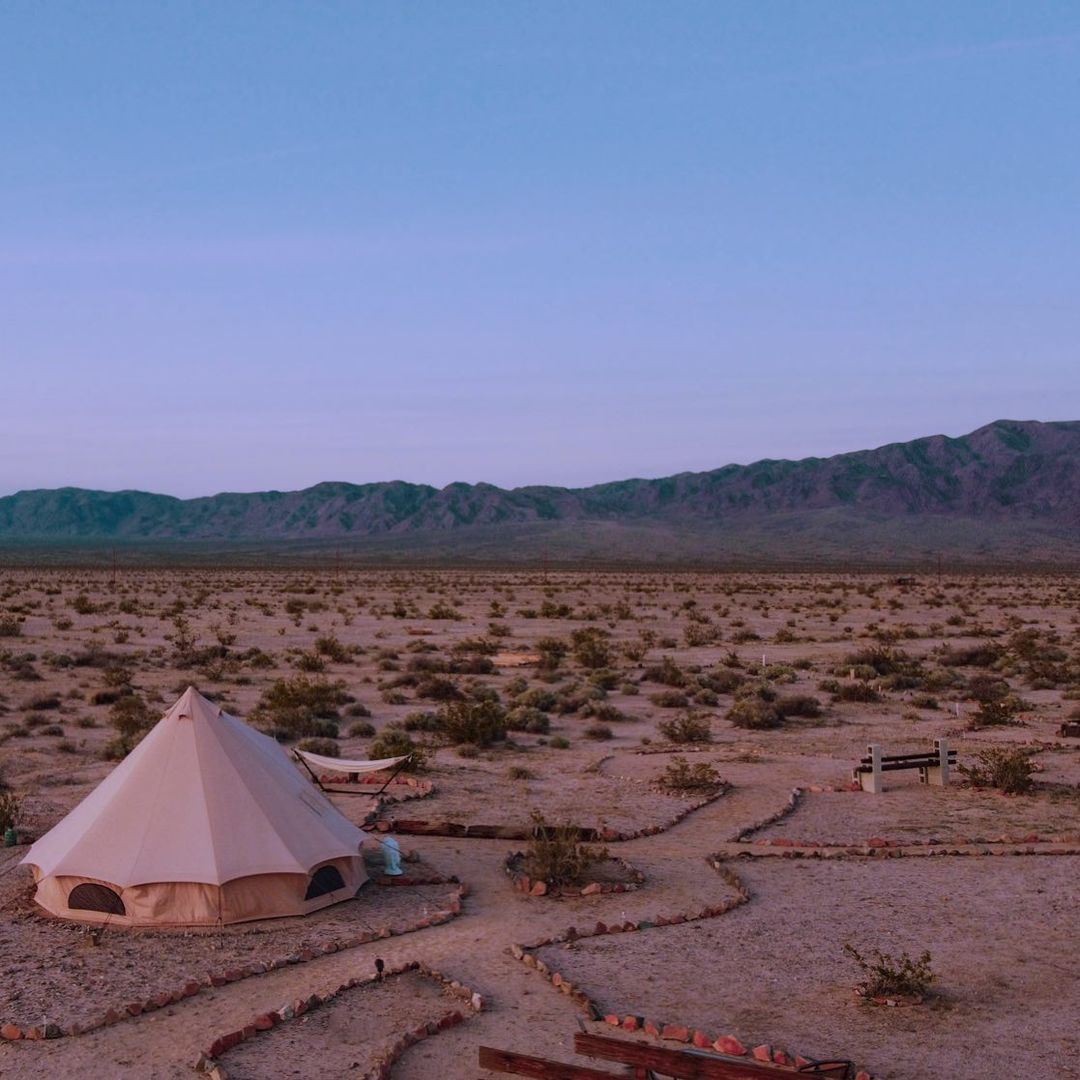 Eric has revolved in and out of passport controls for over 20 years. From his first archaeological field school in Belize to rural villages in Ethiopia and Buddhist temples in Laos, Eric has come smile to smile with all walks of life. A writer, photographer and entrepreneur, the LA native believes the power of connectivity and community is enriched through travel.