The pandemic, social media fatigue and just general burnout has many travelers shifting their vacation priorities. More people are seeking experiences in nature to reconnect with themselves, and to rejuvenate in isolation with a peaceful backdrop as company.
With this demand for a return to nature, more and more campgrounds have begun popping up throughout the United States – a portion set in some of the country's most picturesque landscapes.
Anyone who has passed a moonrise inside of a yurt can attest to how unique and magical camping inside one of these structures feels. But what exactly is a yurt? Yurts are tent-like circular structures with wood lattice frames. They originated in Mongolia thousands of years ago, and are sturdy shelters that work well in a variety of extreme weather conditions. That ruggedness makes them perfect for the person that wants to get into nature without sacrificing some of the luxuries tents cannot provide.
If you're looking to escape for a night in the wild but want to know your tent is not going to blow away while you're hiking, get your planner out and get ready to book one of these cozy accommodations. Here's our round-up of the most beautiful yurt campgrounds that the United States has to offer:
28 Palms Ranch – Twentynine Palms, CA near Joshua Tree National Park
This privately owned campground near one of the United States' most popular national parks features six yurts built through a fair-trade agreement by a Mongolian family. With nearly 1000 five star reviews on Airbnb, and highlights like excellent star-gazing, chill campfire vibes, incredibly comfy beds and all-around amazing glamping experience. This campground is also great because you can book one privately for yourself or with your partner, but you can also book multiple yurts with other friends or family members, and enjoy  Joshua Tree National Park and the charming town of Twentynine Palms while you're at it.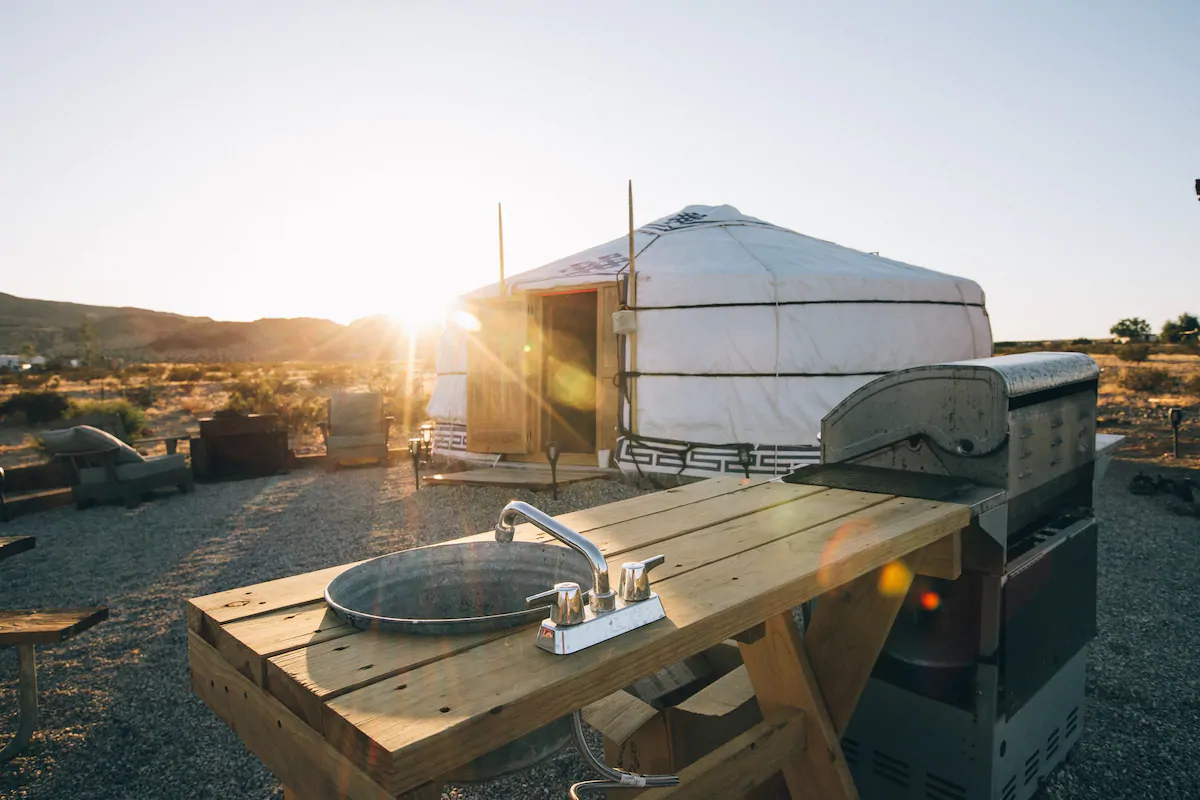 Goblin Valley State Park – Utah 
It's always a special and affordable experience to camp INSIDE a state park, and Goblin Valley in Utah was the first to introduce yurts to their campground accommodations. Their yurts have both heating and air conditioning so you can be comfortable anytime of year, with sleeping arrangements that include a single bed bunked on top of a double bed, as well as a futon couch. A table with four chairs is provided inside, and reclining deck chairs are available for outdoor relaxation. For cooking, an outdoor grill is available along with propane free of charge.
Goblin Valley itself features one of the most unique and beautiful landscapes in North America. Wander and hike along miles of awe-inspiring red rock formations protruding up towards a vast expanse of desert sky. Truly a magical place to experience nature.
Like most state parks, it can be difficult to get a reservation, but to book a yurt here go to www.reserveamerica.com, or call the reservation hotline at 1-800-322-3770.
Tree Bones Resort – Big Sur, CA
Big Sur might be one of the most beautiful coastal towns in the world. Incredible cliffside views of the deep blue Pacific Ocean on one side, steep cliffs, massive redwood trees on the other along with wildflowers, mushrooms, waterfalls and the occasional hot springs.
Tree Bones is an equally special place, and their ocean-view yurts top my personal list. Inside, you'll get a king-size bed, a small table and set of chairs, hooks for hanging your clothing and gear, and small reading lights. There's also a sink vanity with hot and cold running water and bath and hand towels provided, but full bathroom amenities are outside. Each yurt has a private deck with Adirondack chairs to kick back and watch the wildlife.
https://www.treebonesresort.com/yurts/
El Cosmico – Marfa, TX
Marfa is a hip, little, middle-of-nowhere paradise that includes incredible art installations, coffee shops, beautiful skies and all the cool hotels and funky Airbnbs an instagrammer could hope for.
But of all the rentals in Marfa, there's no better place to stay than El Cosmico, a 21-acre campground resort that has left no design detail unimagined. The hipster-village is centered around a store selling serape robes and vintage army jackets, and features a range of accommodations from bougie structures and Airstream trailers, to furnished yurts, and even a self-camping area.
(Need further proof El Cosmico is worthy of our attention? Beyoncé stayed here when she was in town.)
Their 22 ft yurt has wood floors and offers a queen bed, writing desk and sofa for lounging, lighting and an electrical outlet for charging devices as well as A/C and heat. They provide linens and towels for use at the nearby bath house, and guests are able to use the resort's many amenities like the communal outdoor kitchen, hammock areas, hot tubs and more.
Orca Island Cabins – Seward, AK
Experience the best of Alaska's scenic beauty at Orca Island, near Seward, Alaska. This beautiful hillside, waterfront yurt campground is the perfect combination of comfort and adventure. Fishing poles and tackle are available on the island, as well as kayaks, rowing skiffs, stand up paddleboards, and related gear. And firewood is provided for outside campfires. The best part about visiting Alaska is the wildlife, and at Orca Island yurts you will feel absolutely immersed in the wild beauty.
https://orcaislandcabins.com/accommodations-amenities/
Mountain Top Yurt in the Santa Cruz Mountains, CA
A six-hour drive from Los Angeles and one-hour drive from San Francisco await the serene and tranquil Santa Cruz mountains. A wildlife lover's paradise, this region of california is home to Black-tailed deer and a plethora of bird species.
Spend a few days meditating, reading, or writing the next chapter of your book in this peaceful, clean, spacious, beautifully decorated 24-foot yurt.  At only $115 per night on Airbnb, this secluded structure provides a perfect dose of nature and adventure on a cool budget.
https://www.instagram.com/mountaintopyurt/
https://www.airbnb.com/rooms/21788128?source_impression_id=p3_1649977444_kiVmPYkjk0cg1sRk – photo use approved
Phoenix Ridge Yurts – Creede, Colorado 
This wilderness lodging campground is located in one of the most spectacular settings imaginable: the San Juan Mountains near Creede, Colorado.
As the Airbnb description states: "the key here is WILDERNESS. You will stay in a well-appointed yurt with lots of great luxuries but the true joy is what you will find just outside of your front door – Nature."
Accessing these yurts require a 4-wheel drive vehicle and , but if you want an escape to nature, there is no place more beautiful than this campground in Colorado. At night, the dark blue sky lights up with stars along the milky way, making the hike to this yurt worth the wait.
https://www.airbnb.com/rooms/8286641?source_impression_id=p3_1649976103_OlZRxrraPq33x9q2
Forest Garden Yurts – Galena, MO
Designed for artists in the 1970's and tucked away on four acres of Ozark forest, these yurts are a hidden gem on Airbnb. The home yurt has a kitchen, bedroom and a nook living room, the bathroom yurt is separate but has a covered walk, and the property is particularly unconventional and unique, with hobbit hole doors and fun artistic shapes.
Galena is a 3 hour drive from Tulsa, Oklahoma through beautiful Cherokee Nation land and Ozark Forest, and is also close to Fayetteville and Eureka Springs, Arkansas.
Brianne Langstaff-Guerrero is fascinated by soul, depth, connection, nature — things that matter. A professional traveler in more ways than one: she's a flight attendant based out of LAX, as well as a travel content creator. She's always looking for the sunny side of an adventure and will be the first to befriend a stranger in a new city